The ProTherm Quantum® PLUS+ System is made up of a robotically applied Polyurethane Protective Coating, totally encapsulating the Vacuum Insulated Panels. The exceptional performance of the Quantum PLUS+ VIP is achieved by the retained vacuum; requiring the Quantum PLUS+ panels to be used in their supplied size i.e. they cannot be cut under any circumstance. Using a range of panel size ranging from 302 x 302mm to 1202 x 602mm the Quantum Design Team create an optimised laying pattern for every project, using 'XPS Infill', a high performance XPS insulation, where the insulation is required at perimeter infills or where they need to be cut on site to fit around penetrations, outlets, curved upstands etc.
A ProTherm Quantum® PLUS+ inverted roof system is the thinnest solution possible where the severe lack of space calls for using just the Quantum PLUS+ panel. Even in these challenging conditions this system will offer outstanding results.
Click here for BBA Certificate.
A ProTherm Quantum® PLUS+ Hybrid inverted roof system is our most popular solution. Using a combination of both XPS and Quantum PLUS+ we can supply an exceptional thermal outcome without compromising the internal upstand and deliver the ability to maintain a level floor between both internal and external spaces.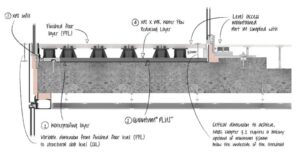 Click here for BBA Certificate.
See our U-value calculation chart here.
See detailed product data here.